Policies
INCLEMENT WEATHER
---
The Dance Center follows the Montoursville Area School District. If Montoursville is closed or dismissed early due to bad weather, the Dance Center will be closed. You may also call 570-433-3755, or check our Facebook page.
TUITION / PAYMENT
---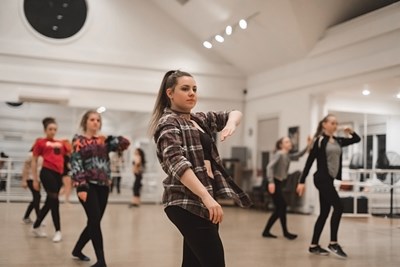 A non-refundable registration fee of $20/student (with a family max of $30) is due prior to the first dance class.
Tuition is based on a 9.5-month calendar year, from September through June. There are NO REFUNDS for missed classes; however, they may be made-up within 2 WEEKS of the absence.
The rates below are not adjusted from classes cancelled due to holidays, inclement weather or other uncontrollable circumstances. Likewise, there is NO EXTRA CHARGE for months that have 5 classes. Tuition is based on how many hours per week a student studies at LKW. It is a yearly tuition, that we can divide into convenient monthly payments. A one hour class is $50 per month, a 45 minute class is $45 per month, and every hour after the first hour is billed at a 50% discount.
Should you choose to pay monthly you must leave a credit card on file. Cash/check payments must be made by the 15th of each month. If payment is not received by the 15th of the month, the balance due plus a $10 late fee will be charged to the credit card on file. Tuition can be paid by cash, check or Mastercard/Visa. No checks will be accepted after May 15th.
Click here to Enroll - Click here for Parent Portal
Please note: PRE-PAID TUITION IS NON REFUNDABLE. A credit will be issued and is valid for one year.
FAMILY DISCOUNTS & YEAR PAYMENT OPTION:
Family discounts apply to immediate family members only, and must be paid on the first student's first class of the month. First family member (with the most weekly hours) pays full price, each additional family member receives a 10% discount.
A 10% discount will be applied to a one time yearly payment. This payment must be received by September 30 and paid by cash or check ONLY. If you prefer to pay your yearly payment by credit card, you will receive an 8% discount.
DISCOUNTED PAYMENTS ARE NON-REFUNDABLE. Please DO NOT pre-pay if you have any doubt that your child will withdraw from a class.
Late payments on any payment option will incur a $10 late fee. A $20 fee will be charged for any checks returned to us by your bank.
Please note: THERE ARE NO REFUNDS. A credit will be issued and is valid for one year.
CLASS ATTIRE
---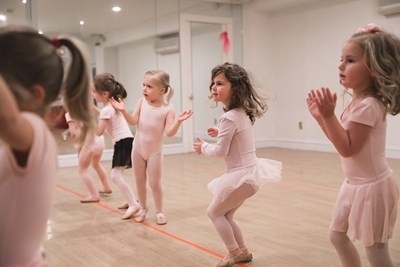 Dancewear and footwear may be ordered through the studio, an order form must be filled out and all orders must be paid in full. Download the order form here.
An essential part of dance training involves the maintenance of an attractive and disciplined appearance. For admission to classes, students must wear proper dance attire, hairstyle and footwear. Dance sweaters, leg warmers and dance shorts/skirts are permitted. Regulations concerning classroom attire will be firmly enforced.
Mommy & Me, Pre-K, & Kinderdance
Girls: Pink leotard, pink tights, ballet shoes, tap shoes (not needed for Mommy & Me)
Boys: Black sweatpants or shorts, white t-shirt, ballet shoes, tap shoes
Combo
Girls: Black leotard, pink tights, ballet shoes, jazz shoes
Boys: Black sweatpants or shorts, white t-shirt, ballet shoes, jazz shoes
Ballet
Girls: Black leotard, pink tights, ballet shoes, pink ballet belt (Junior-Elite classes), hair secured in bun at back of head
Boys: Black sweatpants or shorts, white t-shirt, ballet shoes
Jazz & Tap
Girls: Black leotard, tights, appropriate shoes
Boys: Solid color sweatpants or shorts, t-shirt or tank top, appropriate shoes
Hip Hop
Comfortable clothing that you can move in, sneakers may be worn for this class
Tumbling
Leotard or tank top and shorts (not loose fitting), bare feet