Summer Classes - July 9 to August 3
---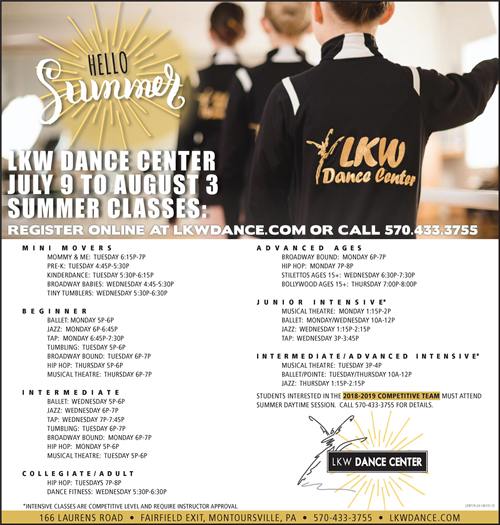 LKW offers a variety of class options for every age and interest! Mommy & Me, Pre-K, Kinderdance, Tumbling, Broadway Babies and Musical Theatre, Hip Hop, Ballet, Tap, Jazz, Bollywood, Stiletto and Dance Fitness.
The 4-Week Summer Session runs July 9 to August 3
$50 for the first hour of class (total for 4 weeks)
$25 for each additional hour of classes added (rates are total for the 4-week session)
Or call us now at 570.433.3375
Princess Camp - August 6th - 9th
---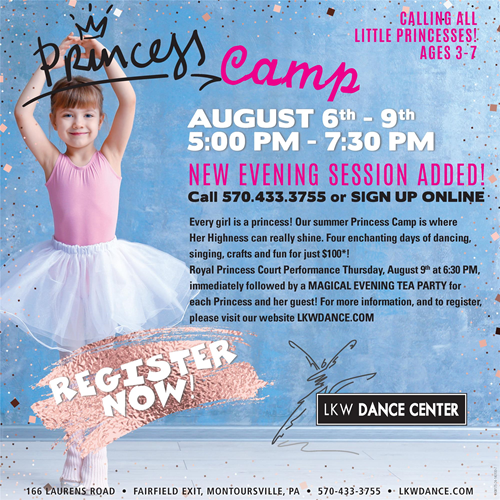 Every girl is a princess! Our summer Princess Camp is where Her Highness can really shine! Four enchanting days of dancing, singing, crafts and pure fun are offered at this camp August 6 through 9, 5:00pm to 7:30pm.
A Royal Princess Court Performance will be held Thursday, August 9 at 6:30pm. Due to popular demand, we are excited to add this evening session for 2018!
(Day Session 10am-12:30pm Princess Camp is full)
Or call us now at 570.433.3375
Summer Ballet Intensive
---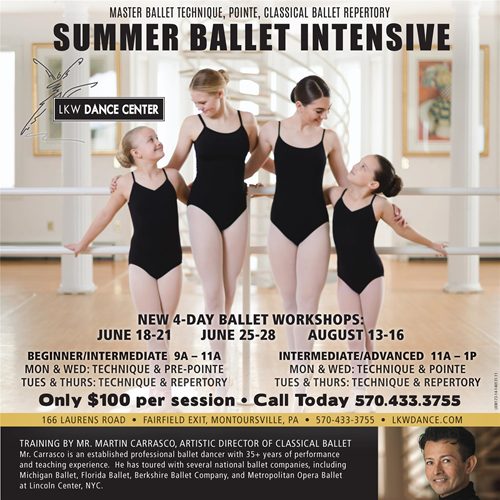 Our Summer Classical Ballet Intensive Program is designed for the serious student who wants to further develop his/her technique and command of this beautiful performing art.
Available to the Beginner through Advanced, the CBIP is 2 hours daily of barre and classwork, learning the proper terminology, methodology and etiquette, all in beautiful and friendly studio experience.
Summer CBIP classes are available for the following three sessions:
June 18-21, June 25-28 and August 13-16
Or call us now at 570.433.3375